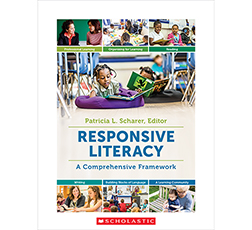 With summer on the horizon, I start to line up my professional reading.   Scholastic recently sent me the book Responsive Literacy: A Comprehensive Framework and I was excited to take a look through it and do recommend it for a summer professional read.  It was written by educators who are associated with The Ohio State University Literacy Collaborative and edited by Patricia L. Scharer.  This book could be used by teachers grades K-6 as a way to increase the effectiveness of literacy instruction.  However, it would also lend itself beautifully as a year-long professional development for those in a K-6 classroom.
As this book opens, the focus is on reminding teachers about the intricacies of the reading process.  It gives some core basics about the reading process. It highlights everything from the systems a child must employ in order to read successfully, to the many practices that help students to access those systems and how to help a student to see themselves as literate beings.  Next, It moves into organizational practices for the classroom in the areas of reading, writing, and word study. Finally, the book discusses creating a learning community within the school involving students, teachers, principals and even families to ensure a literacy rich environment at school and at home.
This is book is intelligently laid out.  The logical order guides the reader through the reading process from pre-reading to post-reading.  Throughout each chapter, pictures and charts are displayed that have been taken directly from the classroom.  Another text feature is the sample teacher/student conversations which helps readers to identify what kinds of conversations can guide students to certain literacy goals.  My two favorite features were the easily accessable online support materials (videos and downloads) as well as discussion questions for each chapter.

A lot of information is packed into this book.  For someone who has a degree in reading education, this would be a little basic.  However, for teachers who are looking for some solid classroom strategies and suggestions, this book would fit the bill.  If you want to read more about the book, it can be found here.  Happy reading!